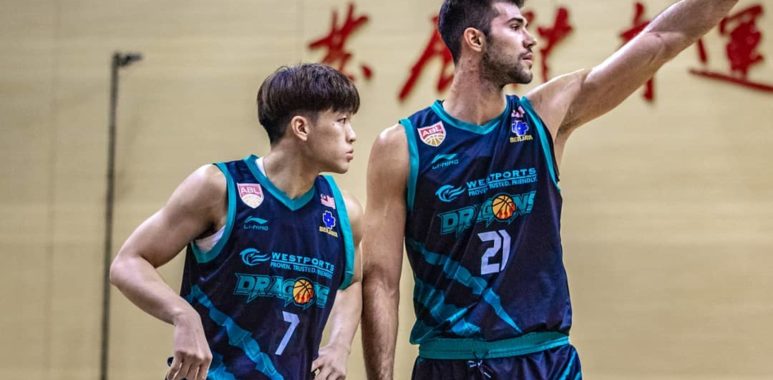 ABL 2019: Post-Game Analysis – WOLF WARRIORS VS KL DRAGONS
ABL10: 🏀KLD 90-83 Macau Wolf Warriors 🏀 Back to winning ways. 
We returned to winning ways with a hard fought 90-83 road victory against the Macau Wolf Warriors at the Foshan Shishan Gymnasium in China.
The winless Wolf Warriors started well with a 4-0 run before Kuala Lumpur born Simeon Lepichev's lay up sparked our own 13-2 run to quickly gave us a comfortable lead.
Unfortunately for us, Amir Bell's early foul troubles sent him to the bench and allowed the Wolf Warriors to cut the lead to only six to end the first quarter.
With Bell on the bench, the Wolf Warriors were able to eventually come back to make it a one point game midway through the second quarter thanks to Doug Herring Jr's layup.
The return of Bell to the floor proved key as we went on another scoring run capped off by a thunderous Simeon Lepichev tomahawk dunk to force a time out from the home team after pushing our advantage to seven.
The Wolf Warriors came out of the timeout strong as Julian Boyd scored 11 straight points to tie the game before Doug Herring Jr banked in a buzzer beating basket to give the Wolf Warriors the 44-42 lead at the half.
Despite an Amir Bell three pointer giving us back the lead early in the third, we still struggled to contain Doug Herring Jr who scorched us with 17 points in the third quarter and pushed their lead to as high as eight.
Just as we needed a boost from our bench, the introduction of Loh Shee Fai to the game midway through the third quarter paid dividends as our ten season veteran immediately contributed an assist to Simeon Lepichev and a three pointer to get us right back into the game.
Taking advantage of Steven Thomas's foul troubles as well, we were able to cut the deficit to only three going into the final quarter.
With our imports Will Artino and Amir Bell struggling with foul trouble, our local line up gave us the right spark early in the fourth as Nicholas Tem found John Wong for the open jump shot that started our 9-0 run to give us the lead for good.
The Wolf Warriors never looked like they were able to bounce back and despite Will Artino fouling out late in the game, we held on to end our 2019 with a 2-1 record.
Our top performer was Amir Bell who flirted with a triple double with 20 points, 9 rebounds and 8 assists on an 80% shooting night. Will Artino picked up his third straight double double with 26 points and 17 rebounds while Simeon Lepichev and Cade Davis contributed 18 and 17 markers respectively.
Head Coach Jamie Pearlman said, "It wasn't the prettiest game. Credit to them,they put us under a lot of pressure and played with great physicality. Their outstanding work on the offensive glass in the first half made it really difficult for us to get our rhythm going.
But, having said that, I'm really pleased with how we grounded out the game. We found ways and solutions to score and also slowed them down defensively. I'm pleased with the learning experience and how we grounded our way out with the win. It's still early stages in our season and we still have a lot of work to do."
We now take a one month break before resuming our campaign on the road against the Saigon Heat.
The Heat have yet to play a game this season due to a majority of their squad being involved in the ongoing SEA Games in the Philippines.
The Heat will be lead by their new head coach,Kevin Yurkus who is also the head coach of the Vietnam National Team.
The Heat's import line up will feature another member of the ABL All Time Top 10 club, 7 ft 1 American Christien Charles who is a former ABL champion, two time World Import MVP and also three time Defensive Player of the Year.
Completing their import line up is former NBA player, Gary Forbes and forward, Sam Thompson who spent three seasons in the NBA G League.
In addition to their trio of dangerous imports, the Saigon Heat will also feature an array of talented overseas born locals in Chris Dieker, Justin Young, Khoa Tran Dang, Vincent Nguyen and brothers Tam Dinh and Sang Dinh.
The game against the Saigon Heat will take place at the CIS Arena in Ho Chi Minh City on the 5th of January 2020 at 7 PM (Malaysia time).